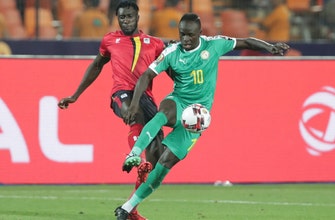 CAIRO (AP) — This is Sadio Mane's moment.
Maybe.
Mane has played slightly in the shadow of Mohamed Salah at Liverpool. This African Cup of Nations tournament in Egypt was meant to be all about Salah. But with Egypt gone and Senegal in the semifinals, Mane has his chance to be the center of attention.
Senegal has been waiting 54 years for an African title. It played in 14 tournaments since 1965, more than any other team, without winning the trophy. Will it now be lucky 15?
Senegal has been a production line for players in the top European leagues and is one of only three African teams to reach the quarterfinals of a World Cup. But somehow it hasn't harnessed that talent at the African Cup.
Senegal plays Tunisia in the semifinals on Sunday. Nigeria and Algeria contest the other last-four game.
Read the original article at https://www.foxsports.com/soccer/story/sadio-mane-seeks-his-moment-at-the-african-cup-071319